TERMS AND CONDITIONS OF RENTAL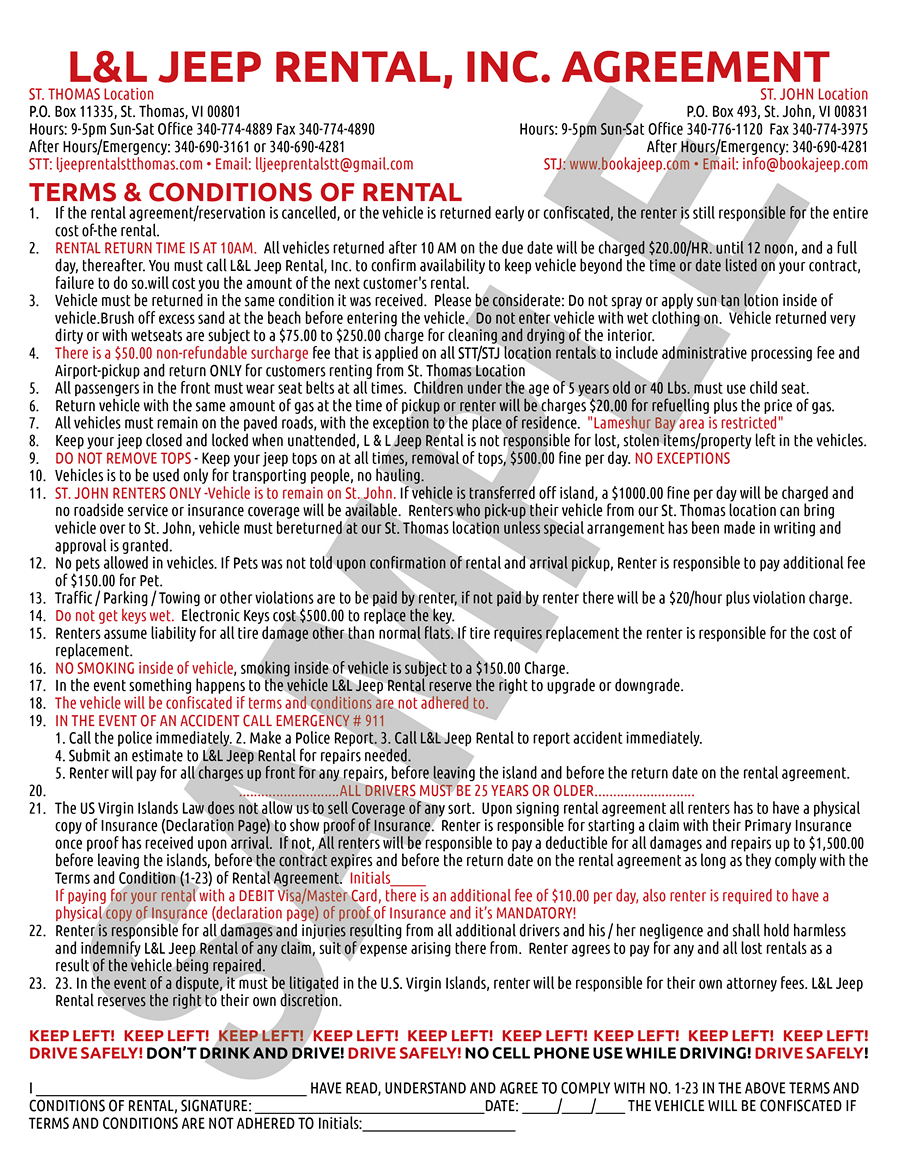 Download PDF Version

If the rental agreement/reservation is cancelled, or the vehicle is returned early or confiscated, the renter is still responsible for the entire cost of the rental.
RENTAL RETURN TIME IS AT 10AM. All vehicles returned after 10 AM on the due date will be charged $20.00/HR. until 12 noon, and a full day,thereafter. You must call L&L Jeep Rental, Inc. to confirm availability to keep vehicle beyond the time or date listed on your contract, failure to do so will cost you the amount of the next customer's rental.
Vehicle must be returned in the same condition it was received. Please be considerate: Do not spray or apply sun tan lotion inside of vehicle. Brush off excess sand at the beach before entering the vehicle. Do not enter vehicle with wet clothing on. Vehicle returned very dirty or with wet seats are subject to a $50.00 to $195.00 charge for cleaning and drying of the interior.
There is a $50.00 non-refundable service fee that is applied on all vehicles which includes: Pick up at the ferry dock in Cruz Bay if customer is unable to walk, Airport-pickup and return ONLY for customer's renting from our St. Thomas location, removal of keys locked in vehicle, disposal of damaged tires, mounting of new tire or plugging if needed.
All passengers in the front must wear seat belts at all times. Children under the age of 5 years old or 40 Lbs. must use child seat.
Return vehicle with the same amount of gas at the time of pickup or renter will be charges $20.00 for refuelling plus the price of gas.
All vehicles must remain on the paved roads, with the exception to the place of residence. "Lameshur Bay area is restricted"
Keep your jeep closed and locked when unattended, L & L Jeep Rental is not responsible for lost or stolen items.
DO NOT REMOVE TOPS - Keep your jeep tops on at all times, removal of tops, $500.00 fine per day.
Vehicles is to be used only for transporting people, no hauling.
Vehicle is to remain on St. John. If vehicle is transferred off island, a $1000.00 fine per day will be charged and no roadside service or insurance coverage will be available. Renters who pickup their vehicle from our St. Thomas location can bring vehicle over to St. John, vehicle must be returned at our St. Thomas location unless special arrangement has been made in writing and approval is granted.
No pets allowed in vehicles.
Traffic / Parking / Towing or other violations are to be paid by renter, if not paid by renter there will be a $20/hour plus violation charge.
Do not get keys wet. Electronic Keys cost $500.00 to replace the key.
Renters assume liability for all tire damage other than normal flats. If tire requires replacement the renter is responsible for the cost of replacement.
NO SMOKING inside of vehicle, smoking inside of vehicle is subject to a $150.00 Charge.
In the event something happen to the vehicle L&L Jeep Rental reserve the right to upgrade or downgrade.
The vehicle will be confiscated if terms and conditions are not adhered to.
In The Event Of An Accident Emergency # 911
Call the police immediately.
Make a Police Report.
Call L&L Jeep Rental, Inc. to report accident immediately.
Submit an estimate to L&L Jeep Rental, Inc. for repairs needed.
Renter will pay for all charges up front for any repairs, before leaving the island and before the return date on the rental agreement.
COMPANY INSURANCE COVERAGE
ALL DRIVERS MUST BE 25 YEARS OR OLDER
Full coverage insurance (basic automobile liability, medical, uninsured motorist and physical damages) is available at a charge of $10.00 per day per vehicle with a $1500.00 deductible, the same coverage is available for $25.00 per day per vehicle with a $1,000.00 deductible. If L&L Jeep Rental Insurance is declined, renters assume all liability for any damages to the vehicle and all claims against the owner not covered by this insurance. Renter will pay for all damages and repairs up front before leaving the islands, before the contract expires and before the return date on the rental agreement. If paying for your rental with a DEBIT Visa/Master Card our insurance of $10.00 per day is MANDATORY!
Renter is responsible for all damages and injuries resulting from all additional drivers and his / her negligence and shall hold harmless and indemnify L&L Jeep Rental of any claim, suit of expense arising there from. Renter agrees to pay for any and all lost rentals as a result of the vehicle being repaired.
In the event of a dispute, it must be litigated in the U.S. Virgin Islands, renter will be responsible for their own attorney fees. L&L Jeep Rental reserves the right to their own discretion.
KEEP LEFT! KEEP LEFT! KEEP LEFT! KEEP LEFT! KEEP LEFT! KEEP LEFT! KEEP LEFT! KEEP LEFT! KEEP LEFT! KEEP LEFT! DRIVE SAFELY, DON'T DRINK AND DRIVE! DRIVE SAFELY, DON'T DRINK AND DRIVE! DRIVE SAFELY, DON'T DRINK AND DRIVE SAFELY NO CELL PHONE USE WHILE DRIVING NO CELL PHONE USE WHILE DRIVING NO CELL PHONE USE WHILE DRIVING.
Download PDF Version

We are Closed on New Year's Day. January 1st, 4th of July, Thanksgiving Day and Christmas Day, December 25th. No Rental Pickups and Returns on those days.